The Quickest & Easiest Seitan Recipe!! (Vegan Chicken!)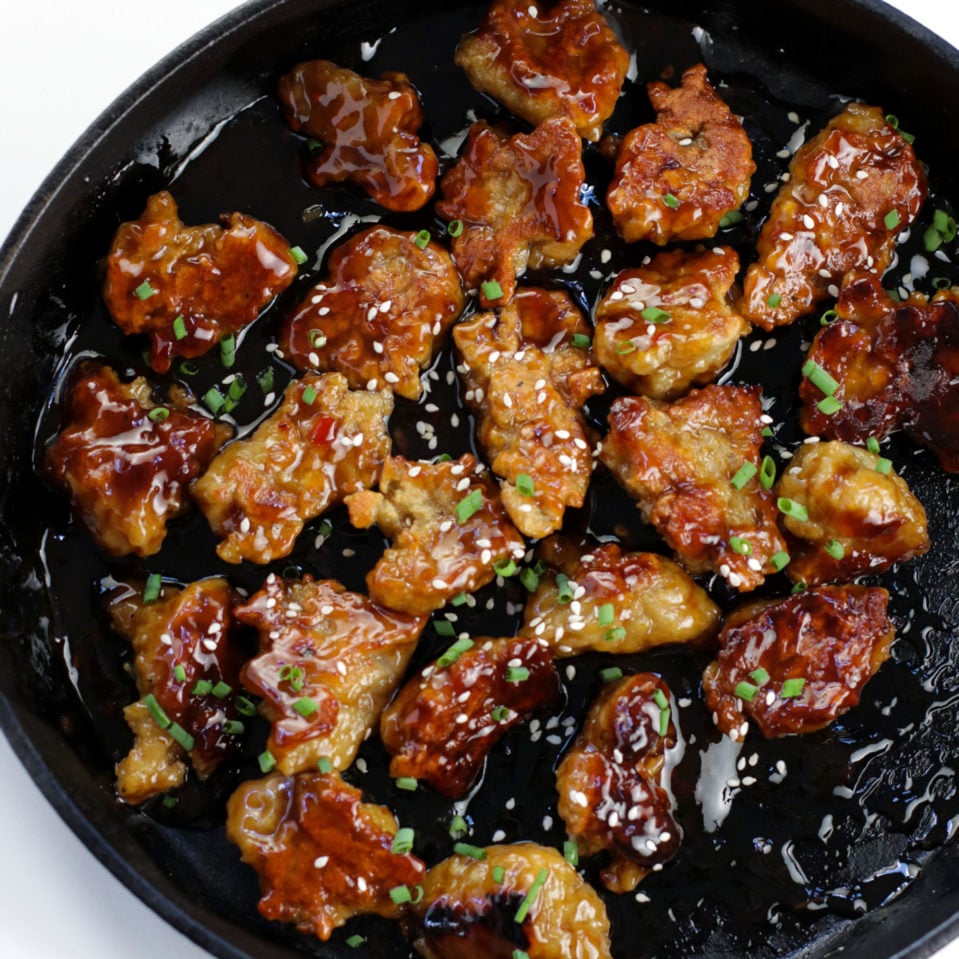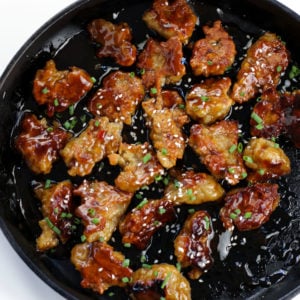 Print Recipe
The Quickest & Easiest Seitan Recipe!! (Vegan Chicken!)
Just 20 minutes to make, and only 7 ingredients, this is by far the quickest and easiest seitan recipe ever!! This vegan chicken alternative is simple to whip up and perfect to add to any meal.  Crispy crunchy on the outside, and tender chewy in the middle. The perfect meaty texture to amp up any vegan meal! If you are new to making seitan this is the perfect recipe for beginners to try.
My Notes:
Ingredients
For the sauce (optional, see notes for other sauce ideas):
3

tablespoon(s)

Thai sweet chili sauce

3

tablespoon(s)

hoisin sauce

2

tablespoon(s)

soy sauce

2

tablespoon(s)

water

1

tablespoon(s)

rice vinegar

1/2

teaspoon(s)

sesame oil

2

tablespoon(s)

light oil

for frying (such as canola or vegetable)

1

tablespoon(s)

sesame seeds

for garnish

2

green onions

chopped (or chives)
Instructions
Add about an inch of water to a pot with a steamer basket and bring to a light boil.

In the meantime, whisk together the vital wheat gluten, flour, vegetable broth powder, onion powder, garlic powder, and salt in a medium bowl. Pour in the water and mix to form a ball of dough. Lightly grease the steamer basket, then tear off bite-sized pieces of the seitan dough and place them in a single layer in the steamer basket. Cover, and steam the seitan for 10 minutes.

In the meantime, in a small bowl or a measuring glass, mix together the Thai sweet chili sauce, hoisin, soy sauce, water, rice vinegar, and sesame oil. Set aside. (See notes for other sauce options).

When the seitan is done steaming, heat 2 tablespoons of oil in a large skillet or non-stick pan. Use tongs to remove the seitan bites from the steamer basket, and place them into the hot oil in the pan. Be careful as it may splatter. Cook the seitan bites a few minutes per side until they are golden brown and crispy. Remove from the heat and add the sauce and toss to coat. Garnish with green onions and sesame seeds if desired and serve hot.
Notes
Sauce options: the sauce recipe I provided is just one idea. You could sauce this seitan anyway you like! Just fry the seitan in oil, then stir in your favourite sauce. Any of my 12 seitan marinades would work great as a sauce! Oil-free: I love how crispy the seitan gets by frying it in oil, but if you prefer oil-free, try frying it in a dry non-stick pan, grilling it, or tossing it in your air fryer. Make-Ahead: you can prepare this seitan completely, let it cool, and then store in an air-tight in the fridge for 3 - 5 days. The seitan will be chewier when cold. Alternatively, you could allow the seitan to cool after steaming (but before frying) and store the steamed seitan in the fridge, then you can fry it fresh.  Freezing: seitan freezes wonderfully, allow the seitan to cool after steaming (but before frying) and store in an air-tight container in the freezer.  Vital wheat gluten is essential to this recipe, and there is no substitute. Therefore this recipe cannot be made gluten-free. For a vegan gluten-free chicken inspired recipe try my Baked Tofu Bites recipe. Steaming tips: you need to steam the seitan bites before using them. I recommend getting a steamer pot if you plan to make seitan often, or you can use a DIY method if you do not have a steamer. Cleaning tips: vital wheat gluten is very sticky and can destroy dish brushes and cloths. So what I like to do is save old clothes, sheets, or towels that are too shabby to donate, and cut them into rags. I use these rags to clean up after preparing a seitan recipe and discard the rag once finished. Soy-Free: for soy-free, substitute a soy sauce for a soy-free option such as coconut aminos.
Nutrition
Serving:
1
serving of seitan fried in oil, but without sauce (recipe makes 4 servings)
|
Calories:
180
kcal
|
Carbohydrates:
10
g
|
Protein:
18
g
|
Fat:
8
g
|
Saturated Fat:
1
g
|
Polyunsaturated Fat:
1
g
|
Monounsaturated Fat:
5
g
|
Sodium:
364
mg
|
Potassium:
38
mg
|
Fiber:
1
g
|
Sugar:
1
g
|
Vitamin C:
1
mg
|
Calcium:
36
mg
|
Iron:
2
mg