4 Ingredient Granola Bars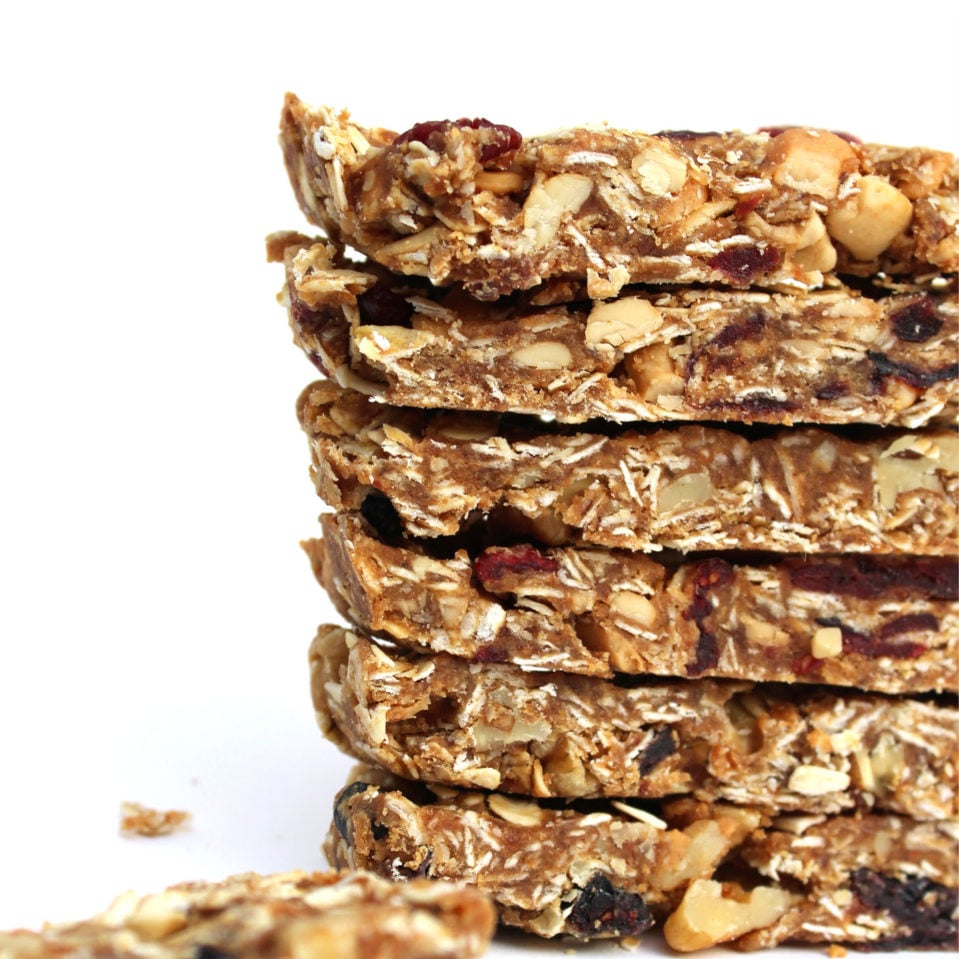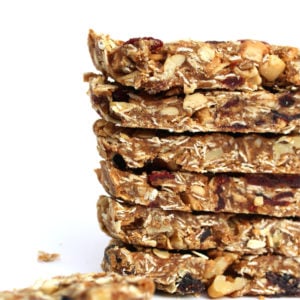 Print Recipe
4 Ingredient Granola Bars
30 minutes and 4 ingredients to make. Use whatever you have on hand, the combinations are endless! To make them school safe omit any nuts and make sure to use seed butter or wowbutter and seeds.
My Notes:
Servings:
bars (approximately)
Ingredients
The basic bars:
1

cup(s)

medjool dates

pitted

1/4

cup(s)

nut or seed butter

(peanut butter, almond butter, cashew butter, sunflower seed, pumpkin seed, wowbutter, whatever you like!)

1 1/4

cup(s)

rolled oats

1

cup(s)

nuts or seeds

(almonds, peanuts, cashews, hazelnuts, sesame seeds, pumpkin seeds, whatever you like!)
Optional add-ins:
1/2

cup(s)

chocolate chips, dried fruit like cranberries, raisins, apricots, coconut (optional)

1/2

teaspoon(s)

vanilla extract, cinnamon, pumpkin pie spice mix, or salt (optional)
Instructions
Optional step: toasting the oats and nuts (for toasty flavour)
To toast the oats and nuts (optional), preheat your oven to 350F (180C). Toast the oats and nuts for 10 – 15 mins, until fragrant and golden.
To make the bars:
Line a baking tray with parchment paper or plastic wrap, and leave excess hanging over the sides so you have little handles to pick the bars up when you are done.

Add the dates to a food processor and pulse until it forms a gooey paste ball.

In a small sauce pan, heat up the nut butter just until it is heated through and becomes a bit runny.

Add the date paste and warmed nut butter, along with the nuts, oats and any add-ins to a large bowl. If you are adding chocolate chips or anything else melty, let the mixture cool a bit before adding them so they don't melt. Mix well.

Scoop the granola mixture into the parchment lined pans and smooth and pack the bars down until they are firmly packed into the bottom of the pan. Really pack them down, so they hold together. Toss them in the freezer to set for 20 minutes or until set. Pop the bars out of the pan and using a sharp knife slice them up into bar shapes. Store in an airtight container in the fridge or freezer.
Notes
If you find your dates are a bit hard or dry, soak them in hot water for 10 minutes before tossing in the food processor. We want to make sure they are at peak stickiness as they are the main glue for the bars.
Nutrition
Calories:
145
kcal
|
Carbohydrates:
16
g
|
Protein:
3
g
|
Fat:
8
g
|
Sodium:
2
mg
|
Potassium:
194
mg
|
Fiber:
2
g
|
Sugar:
7
g
|
Vitamin A:
15
IU
|
Calcium:
33
mg
|
Iron:
0.9
mg